Nissan Qashqai vs. Honda HR-V vs. Toyota C-HR vs. Mazda CX-3
October 31, 2017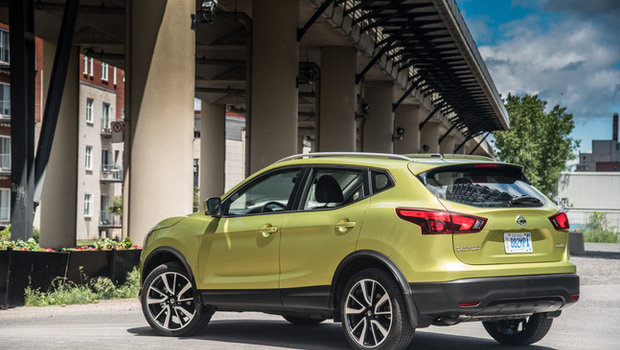 Saint John Nissan
The popularity of sport utility vehicles in North America is now well known. It's been a few years now that sales of several SUVs have outpaced those of equivalent cars, and the first to notice this trend are automakers. This explains why the subcompact SUV segment, until recently quite small, has grown rapidly in recent years.
Take for example the Nissan Qashqai, the Honda HR-V, the Toyota C-HR and the Mazda CX-3. Here are four of the newest and most modern models in the sub-compact SUV segment, and four models that will definitely be on the list of potential vehicles for any buyer looking for a versatile SUV that is also fuel-efficient and affordable. .
The 2017 Nissan Qashqai's value is unbeatable
But which SUV is right for you? Everything becomes a matter of priority. If price and interior space are important to you, the 2017 Nissan Qashqai is hard to beat. All of these subcompact sport utility vehicles have their strengths, but the Qashqai really stands out when it comes to value and versatility.
Indeed, the 2017 Nissan Qashqai starts at $ 19,998, nearly $ 5,000 less than the Toyota C-HR and almost $ 2,000 less than the Honda HR-V. Its price is equivalent to the Mazda CX-3 and only the Mazda and Nissan offer the possibility of a manual transmission.
It's not just at the base model level that the Nissan Qashqai stands out. Indeed, even better-equipped versions of Nissan's urban SUV offer a better equipment/price ratio than the HR-V and CH-R high-end versions.
Moreover, the Nissan Qashqai also stands out at the pump where its average fuel consumption rating of 8.8 liters per 100 kilometers in the city and 7.3 liters per 100 kilometers on the highway will certainly make its owner smile.
Generous cargo space for the 2017 Nissan Qashqai
The 2017 Nissan Qashqai will not only be more affordable to buy and own than the majority of its rivals, it is also more spacious. Firstly, its interior reminds us of the Nissan Rogue with its high-quality materials and roomy, open layout.
The Qashqai's trunk is also very welcoming. It offers nearly 623 liters of cargo space with all seats in place, and 1,730 liters with the rear seat lowered. The Mazda CX-3 can do no better than 452 liters with all seats in place while the Toyota C-HR and the Honda HR-V respectively offer 1,031 liters and 1,583 liters with the rear seats folded down.
For a spacious, affordable, fuel-efficient and refined SUV, it's hard to beat the 2017 Nissan Qashqai. For more information, contact us today at Saint John Nissan!